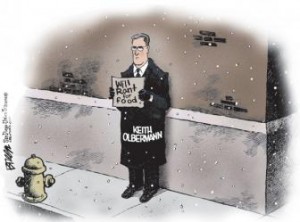 Posted in Reality Check.
Comments Off on Keith Overbite gets Axed – isn't it about time? Madcow next?
By Mr Truth – January 27, 2011
---
This is it everyone, We have dealt with two years of absolute crap from this administration and it is now time on Tuesday to get up off the coach and grab everyone you can to get to the polls. It is obvious from watching almost any TV/cable news that the Democrats cannot stand on their record and are just coming out with the most ridiculous and insulting campaign against any republican I have ever seen. Even our President Obama calls us the "Enemy" to Hispanic voters? What kind of President does this? A desperate one! It is time to make sure your vote counts especially if you are in a blue state. Make your voices heard and do hesitate to debate any issue, because if you have been following my website, we have the facts. They have spin and rhetoric. I have people questioning my methods all the time and I just politely debate with them. Afterword, I am always on the winning end, because I do not believe the liberal media. I have always believed in self-education and always, always find out your own information about any issue. This will help you in any debate and will also make you realize exactly what is going on in this great country. Just remember what the great Reagan once said, "The President can't spend a dime, it is congress that spends all the money." That is why on Nov. 2nd, 2010 your vote is actually more important than voting for the President. If congress can be controlled with true conservatives, this country will once again be the envy for the rest of the world! Take care and get out and VOTE! If you need more inspiration watch the video connected to this post – Are you better off now than you were two years ago? Thanks.
Posted in Reality Check.
Comments Off on Make a statement on Nov. 2nd , 2010!
By Mr Truth – October 30, 2010
---
---
Mr. Begala is sending out the below letter (Click the link to read the letter) to all Democratic voters, contributors and idiots. Yes, complete and utter BS is in this letter. If you have the stomach to make it through the whole  letter and not puke, then you have a stomach made of iron. It seems that Mr. Begala doesn't realize that Obama has had a majority in both houses, but still blames the Republicans for all the countries problems. This is why EVERYONE should vote Republican, just to stop this madness. Democrat BS
Posted in Unbelieveable!.
Comments Off on Paul Begala is a real idiot and this letter proves it!
By Mr Truth – October 15, 2010
---
The quote by one of the greatest Presidents this country has ever had:
"The problem with our liberal friends is not that they are ignorant, it is that they know so much that isn't so."
Here is the link to the video:
Man, I miss having a real leader for our country, don't you? Take care.
Posted in People that actually make sense!.
Comments Off on Reagan makes a great qoute about liberals, watch the video:
By Mr Truth – August 17, 2010
---
Yes, it's true Col. Allen West is running for Congress and if you do not know who this is you haven't been on my website at all. He was one of the first articles I put on this website! He is everything which is good for the government right now. Please visit his website and you will be proud to support Mr. West. He is very articulate and would run circles around Obama and any of Obama's supporters! Here is the website:
http://allenwestforcongress.com/
Watch this video and you will be inspired:
http://www.youtube.com/watch?v=VP2p91dvm6M/
Look for more great candidates such as Col. Allen West! He is running for Florida's 22nd district, hopefully he and Marco Rubio win and turn Florida around! Take care.
Posted in People that actually make sense!.
Comments Off on Allen West is running for Congress!!!!!!!!!
By Mr Truth – August 13, 2010
---
Posted in Unbelieveable!.
Comments Off on This is why we need to vote for the right kind of judges!!!!!!!
By Mr Truth – July 29, 2010
---
---
---
---